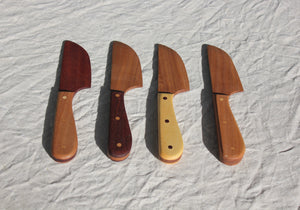 Make your family meals at home a special time.
Beautifully hand crafted by Alex Veleff in his Bellarine Peninsula studio.
These knives are made from salvaged timber in Red Wood, Huon Pine, Sugar gum, Snow Gum and Red and White Iron Box.
Available in three sizes and styles. 
Large size (23cm x 4.5cm x 1cm) is perfect for cakes and slices.
Smaller sizes (17cm x 3.5cm x 1.5cm) are perfect for cheese, butter, dips or spreads.
Finished in high quality plant-based oil.