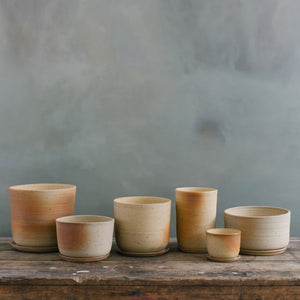 Wheel-thrown stoneware ceramic planter with glazed saucer in a stoneware, terracotta and raku blend clay body. Sand planters are unglazed, allowing for the black speckles of the raku clay to feature as well as the appearance of rust coloured 'blushing' which occurs during the firing process. Needless to say, clay bodies behave in varying ways during firing so please expect minor variables to the photographs shown.

Laura makes every Leaf and Thread piece by hand with care at her studio in East Brunswick, Melbourne.

Planters come in 6 sizes (Small, Medium, Large Tall, Large Wide, XLarge and XXLarge) and are designed to fit most common indoor pot sizes. Each pot has a drainage hole for direct planting.
Sizing

SMALL
Approx H8cm x W10cm, perfect fit for terrarium sized plant pots, little cuttings, or hoya varieties.

MEDIUM
Approx H13cm x W15cm, perfect fit for 13cm indoor plant pots.

LARGE WIDE
Approx H14cm x W18cm, perfect fit for mixed succulent planting, mixed fern planting, or re-potting your growing plant from a medium size when it needs a bigger home.

LARGE TALL
Approx H18cm x W13cm, perfect fit for 13cm indoor plant pots.

X LARGE
Approx H18cm x W18cm, perfect fit for 15cm and 17cm indoor plant pots.

XX LARGE
Approx H20cm x W20cm, perfect fit for 17cm and 20cm plant pots.
Shipping
Free shipping on orders over $200. Australia-wide Standard Shipping is $15 and $5 for each additional piece. Items will be shipped within 3-5 business days. Pick-up available for from our East Brunswick studio - please select 'Studio Pickup' at checkout. 
International Shipping is a flat rate of $50 for first item and $10 for each additional piece. 
Please see Shipping & Returns for further information.